You have always heard about Seven Wonders of World. Now its time to know about 'Seven Wonders of India'.
These  are the must locked places to visit in a trip to India.
GOMATESHWARA

Located at Shravanbelagola, Karnataka is a monolithic grand and the largest (57 – foot) free standing statue of God Baahubali of Jain religion. Once in every 12 years, Mahamastakabhisheka festival is celebrated in the temple. It is situated their since AD 981.
HAMPI
        Located by the banks of the river Tungabhadra, Karnataka. The miraculous art has made this historial place to be emblazoned since 1342-1565. Also it has the beautiful Virupaksha Temple.
HARMANDIR SAHIB (GOLDEN TEMPLE)
 The most sacred place of the holy spirit surrounded by the water in the Amritsar, Punjab. The sparkling Gold plated and composed structure has given the place a divine solace since 1585-1604.
KHAJURAHO
Located in Chhatarpur District, Madhya Pradesh well known for its huddle of wondrous Hindu & Jain temple structures and their astonishing idols and sculptures that says all about the beauty. Beauty has been enriched since earliest parts 9th century AD.
KONARK SUN TEMPLE
Located at Konark in coastal Orissa is the most ravishing and appealing for its ancient temples and their artwork build in typical Kalinga style in the shape of chariot of Sun God with 24 wheels in Mid 13th century AD.
NALANDA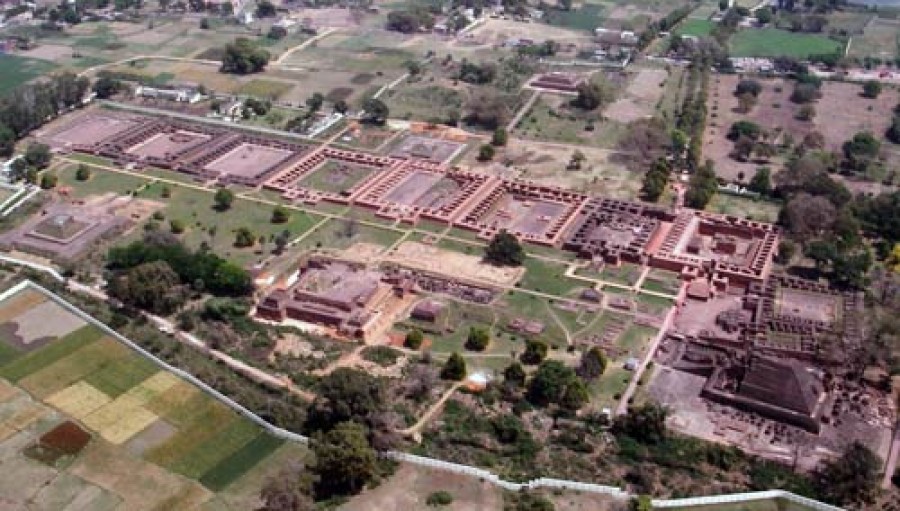 Known as ancient 'Centre of Higher Learning'  located near Patna, Bihar is the oldest university where students from different nations traveled to come through and enhance education and learnings since 5th century AD.
TAJ MAHAL
The 'emblem of Love' is located in Agra which was made by Shah Jahan for his beloved wife Mumtaz in 1632-53. It also stands out in the seven wonder of world because of the glint it spreads through it white marble and stunning art.
Follow us on Social Media: